CSFprimus Series Filter Screen Changer
Business Type
Manufacturer, Exporter, Supplier
Thickness
0-50cm, 100-150cm, 150-200cm
Certification
CE Certified, ISO 9001:2008
Condition
New
Click to view more
Patented Rotary Filtration System with large active screen area and two working positions.

Continuous and fully-automatic
Patented rotary filtration system with large active screen area and two working positions. The filter disc is divided into two zones, which can be alternately moved into the melt channel. On request (e.g. for batch or roll changes) the positions and thus all screens in the melt channel are automatically changed. The melt flow is not interrupted, so that downstream components do not have to be restarted afterwards. Filter elements can be replaced at any time between two changes.

The advantages of CSFprimus screen changers
Compact-The small and compact design of the Rotary Filtration Systems makes simple and cost-efficient integration possible even in a very confined space.
Sturdy-The metallic sealing system is highly wear-resistant. It guarantees leak-free operation even with low viscosity melts up to 500 bar.
Streamlined-The rheology of the melt channel and the inner parts of the screen changer can be individually adjusted to the specific requirements.
Uncomplicated-A screen change can be carried out automatically at any time without interrupting the melt flow. In case of a change, all screens in the melt flow are completely exchanged. Such a change should preferably take place during roll/batch changes. If more frequent changes are required during the production batch, a pressure-constant system (SFneos, SFXmagnus or RSFgenius) should be used.

The filter disc is divided into two filter segments which can be alternately introduced into the melt channel. The change is done fully automatically. The system is driven hydraulically or pneumatically.

The segment, which is not located in the melt channel, is completely accessible, so that the operating personnel can replace the filter elements at any time between changes. On request, a version with removable breaker plates is also available, so that even demanding colour changes can be carried out in the shortest possible time.

During the change itself, the melt flow is not interrupted, so that downstream components generally do not have to be restarted after the change.
Graph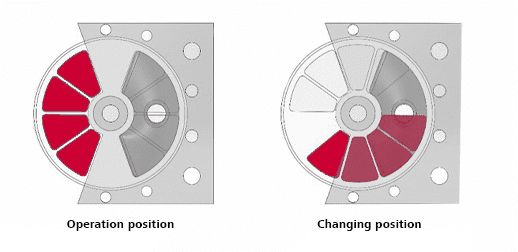 Looking for "
CSFprimus Series Filter Screen Changer

" ?