KSF Series Filter Screen Changer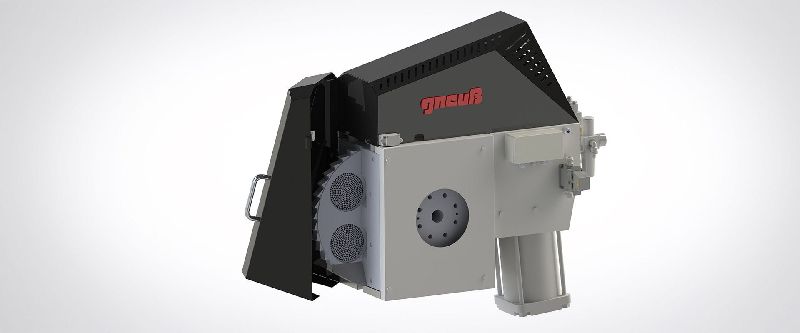 Business Type
Manufacturer, Exporter, Supplier
Thickness
0-50cm, 100-150cm, 150-200cm
Certification
CE Certified, ISO 9001:2008
Condition
New
Click to view more
Compact screen changers for applications with frequent material and/or colour changes.

Compact and continuous
The Rotary Filters KF and KSF are simpler continuous screen changers based on the proven concept of the Rotary Filtration Technology. These filter systems are especially suitable for high pressure applications and frequent material changes.

The advantages of  KSF screen changers
Compact-The small and compact design of the Rotary Filtration Systems makes simple and cost-efficient integration possible even in a very confined space.
Sturdy-The metallic sealing system is highly wear-resistant. It guarantees leak-free operation even with low viscosity melts up to 500 bar.
Streamlined-The rheology of the melt channel and the inner parts of the screen changer can be individually adjusted to the specific requirements. These screen changers are also perfectly suitable for thermally sensitive polymers such as PVC.
Straightforward-A screen change can be initiated automatically without the need to stop production.

KSFx2 screen changer with double active area
The KSFx2 Filtration System is characterized by rheologically optimized melt flow channels absolutely free from dead spots. The channels are matched individually to the respective filtration task. When the pressure upstream of the filter increases due to contamination of the screen and the selected pressure value is reached, a screen change is carried out automatically.

During screen changes, polymer flows briefly over 3 screen cavities, thereby avoiding pressure spikes and consequently avoiding process disturbances. It is possible to remove the breaker plates during screen changes and replace them with clean plates. This is especially important for thermally sensitive materials, to make sure that always a 100 % clean cavity and breaker plate enter into the melt flow.
Graph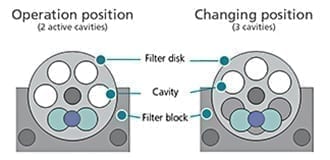 Looking for "
KSF Series Filter Screen Changer

" ?